Arvin Agah
---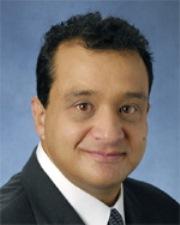 Professor, EECS. Dean of Engineering
Contact Info
Eaton Hall Room 1C
Lawrence

---
Biography
—
Dr. Arvin Agah is a Professor of Electrical Engineering and Computer Science at The University of Kansas and Director of ITTC's Intelligent Systems Laboratory. He joined the EECS faculty in 1997.
From October 1995 through August 1997, he was a visiting researcher at the Bio-Robotics Division of Mechanical Engineering Laboratory, Ministry of International Trade and Industry, in Tsukuba, Japan. Dr. Agah has been a member of the research staff at IBM Corporation's Los Angeles Scientific Center, Santa Monica, California, in 1989; and Xerox Corporation's Webster Research Center, Rochester, New York, in 1988. He has also worked as a technical consultant in the areas of graphical user interfaces and database design for entertainment law firms and management companies in Century City and Beverly Hills, California.
Research
—
Distributed robotics, biomedical robotics, multi-agent systems, autonomous mobile robots for harsh environments, software engineering.