Jennifer Lohoefener
---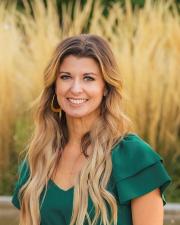 Assistant Research Professor, EECS
Associate Director, I2S
Contact Info
Nichols Hall Room 252
Lawrence
2335 Irving Hill Rd
Lawrence, KS 66045
Eaton Hall Room 2028

---
Biography
—
Jennifer is a graduate of the University of Kansas where she received her B.S. in Computer Engineering and Ph.D. in Computer Science. Her research efforts include programming language semantics, formal methods, trusted computing, and domain specific language design and specification. Her work has been published at both national and international conferences and prior to joining KU and ITTC she contributed to the research community through invited lectures, white papers, and involvement in various STEM education efforts.
In addition to her research at the university, Jennifer serves as Director of Data Science and Analytics at Ad Astra Information Systems where she leads several teams in the design and implementation of ETL processes, data modeling and architecture, as well as research and development of data analytics and insights. Prior to entering the software industry she was a faculty member in the Electrical Engineering and Computer Science department at Grantham University where she was responsible for the creation of their Computer Science curriculum. Today she continues to serve as a member of the board for Grantham's engineering program. Since her graduation, Jennifer has held various positions within the software industry including software engineer, software architect, data scientist, and data strategy.
Outside of her career, Jennifer enjoys spending time with her three children and husband. When she's not attending one of the kids' dance competitions, soccer games, or swim lessons she can typically be found relaxing with family at their lake cabin.
Education
—
Ph.D. in Computer Science, The University of Kansas, 2011, Lawrence, KS
B.S. in Computer Engineering, The University of Kansas, 2004, Lawrence, KS
Selected Publications
—
1. Streb, J., G. Kimmell, N. Frisby, P. Alexander, "Domain Specific Model Com-
position Using a Lattice of Coalgebras", The OOPSLA Workshop on Domain
Specic Modeling, Portland, OR, October 2006.
2. Streb, J. and P. Alexander, "Using a Lattice of Coalgebras For Heterogeneous
Model Composition", MoDELS Workshop on Multi-Paradigm Modeling, Gen-
ova, Italy, October 3, 2006.
Selected Presentations
—
1. "Thinking Beyond the Code" Missouri Iowa Nebraska Kansas Women in Com-
puting, Kansas City, Missouri, October 2013
2. Streb, J. \Using a Lattice of Coalgebras For Heterogeneous Model Composition"
MoDELS Workshop on Multi-Paradigm Modeling, Genova, Italy, October 2006
3. Invited Presenter, Engineering Panel, Perceptive Software, Shawnee, KS, 2009-
2013
4. New Student Orientation, Electrical Engineering and Computer Science De-
partment, The University of Kansas, Lawrence, KS, October 2012
5. Invited Speaker, Lambda Language Semantics Reading Group, Lawrence, KS,
2004-2008
6. Invited Presenter, ITTC Advisory Board Research Poster Session, Lawrence,
KS, 2004-2008
7. Invited Presenter, Honors Tutorial Freshman Course, The University of Kansas,
Lawrence, KS, 2004-2008
Service
—
Grantham University Electrical Engineering and Computer Science advisory board member, 2009-Present
Research and Development Hiring Committee, Lexmark International Enterprise Software, Lenexa, KS, 2012-2016
Mentor, Lexmark International Enterprise Software, Lenexa, KS, 2011-2016
Mentor, Perceptive Software, Shawnee, KS, 2010-2011
Grantham University Curriculum Committee 2009
Faculty Search Committee Member, The University of Kansas Electrical Engineering and Computer Science, Lawrence, KS, 2007-2009
Mentor, KC STEM Alliance Introduce A Girl To Engineering, Kansas City, MO, 2014
Engineering Tutor, The University of Kansas, Lawrence, KS, 2004-2008