Taejoon Kim
---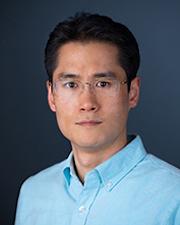 Assistant Professor, EECS
Contact Info
Nichols Hall Room 137
Lawrence
2335 Irving Hill Rd
Lawrence, KS 66045
---
Biography
—
Dr. Taejoon Kim joined the Electrical Engineering and Computer Science Department and ITTC at University of Kansas as an Assistant Professor in August 2017.
He earned Ph.D. in Electrical and Computer Engineering at Purdue University, West Lafayette, IN, in 2011. From 2011 to 2012, he was with the Nokia Research Center, Berkeley, CA as a Senior Researcher and from 2013 to 2017, he was an assistant professor in the Electronics Engineering Department at City University of Hong Kong.
His research interests are in the design and analysis of communication systems, statistical signal processing, and MIMO wireless systems.
Awards & Honors
—
Harry Talley Excellence in Teaching Award (2022), EECS Department, The University of Kansas: The Harry Talley award is the highest honor that EECS senior level students vote on an EECS faculty member who has greatly contributed to their engineering success and been an outstanding educator.
Miller Awards (2022 & 2021), The School of Engineering, The University of Kansas: For nominee's significant contributions to the research, teaching, and service mission.
The President's Award (2017), City University of Hong Kong: Awarded for exemplary contributions to research, professional education, and sustaiend performance with international recognition.
IEEE Communications Society Stephen O. Rice Prize in the Field of Communication Theory (2016), the Best Paper Award of the IEEE Transactions on Communications: Awarded annually to one original paper published in the IEEE Transactions on Communications in the previous three calendar years. The judgement is made based on quality, originality, impact, utility, timeliness, and clarity of presentation.   
IEEE International Symposium on Personal, Indoor, and Mobile Radio Communications (PIMRC) Best Paper Award (2012): 2 regular papers were awarded the best papers from over 400 accepted papers.
Nokia Bell Labs Kudos Award, Nokia, 2012
Nokia Bell Labs Honorable Mention in Top Invention, Nokia, 2011